Click to enlarge image(s)
You've Seen This Amazing Self Priming Siphon / Syphon At Home, Boat and Auto Shows Everywhere!
Now order them from the comfort of your own home. This amazing self priming Siphon/ Syphon Hose has a 3/8" diameter x 6Ft. long anti-static , anti-spark hose with a 3/8" diameter red nylon tip that contains a check valve (a glass ball and stainless steel spring). The secret to the Siphon Hose is in this check valve which makes it self-priming.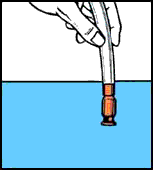 The 3/8" Siphon Hose works exactly the same as the 1/2" Siphon Hose. But the smaller size makes it more portable and convenient to insert into containers with narrow openings. Just set the red nylon valve end into your liquid and use a few quick strokes up and down to start the self-priming action of the Siphon Hose. When the fluid in the hose is past the level of the fluid in the tank you are siphoning from, gravity will take over. That's it, and in minutes you can transfer gas (or any other liquid) safely, without any gas in your mouth or on the ground!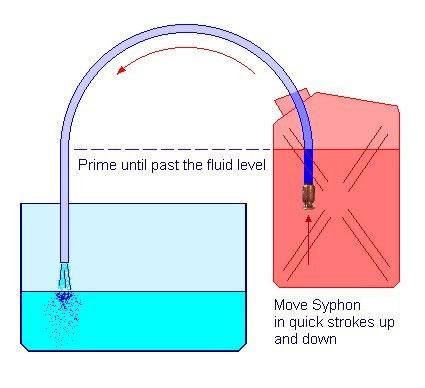 The Self-Priming Siphon / Syphon Hose is much easier and safer to use than an old fashioned siphon that needs manual suction to get it started. The Siphon Hose makes it so easy to transfer large amounts of liquid in a very small amount of time.

* The smaller 3/8" diameter size fits in containers with narrow openings!

* Use Siphon Hoses to safely transfer gasoline, diesel fuel, kerosene, light weight oil, water, thinners, paint and more.

* The Syphon Hose comes in handy for use with boats, autos, lawn mowers, tractors, motorcycles, stopped up sinks and tubs, water beds, aquarium and fish tank maintenance, ponds, pools, hot tubs and home brewery's.