Click to enlarge image(s)
Our Shammy Pet Towel sets are super absorbent, very durable, and yet dry cuddly soft! An airspun process is used to create thousands of micro-pores like a very fine sponge and makes them a great choice for a pet drying towel! Perfect for dogs, cats, horses and well........just about any pet that's part of your family!


Our Shammy Dog & Pet Bath Towel sets have many advantages:

Each Super Absorbent German Chamois Pet Towel holds an amazing amount of water. Just wring out and continue to use the same pet towel. This makes it perfect for quickly drying off dogs and pets. You won't need a ton of towels. Just one Shammy Pet / Dog Bath Towel will dry your pet in half the time! Save time and laundry loads by drying your pet more quickly and more completely than several traditional cotton towels. Dampen your Shammy Pet Towel and use as "Cool Coats" in the summer!

Each Shammy (Chamois) Pet Drying Towel is Gentle & WILL NOT irritate your pets delicate skin. You'll find that they will come to love bath time with their new chamois bath towel. As you can see, our Shammy Mascot Amos loves his chamois bath towels too!


Shammy Pet towels make fabulous dog crate pads and crate liners! Soft and comfy, these pet towels will absorb even the biggest pudddle! And they make great liners for dog & pet bedding. Each reusable shammy pet towel is non-toxic. Think of it as your pets new security blanket!

*NOTE: Please be sure to wash your Shammy Pet Towel before first use to remove fabric sizing. For more detailed information and list of other uses, please see our Shammy Dog & Pet Bath Towel Instruction page.


Machine washable and air dry. The Synthetic Chamois Dog & Pet Bath Towel dries soft and cuddly. No need for fabric softners! You can even use bleach (they are color fast) to completely sanitize each towel. Very important when using with pets.

The Chamois Pet Towel is used and recommended by groomers, breeders, shelter workers and veterinarians for drying off pets, absorbing unexpected puddles, and for crate pads, crate liners and pet bedding.


Each Set Includes 3 Generously Sized Super Absorbent Pet Towels in Your Choice of 10 Vibrant Colors & is Wrapped With Love in Too Cute Paw Print Paper!
Perfect For Gifts!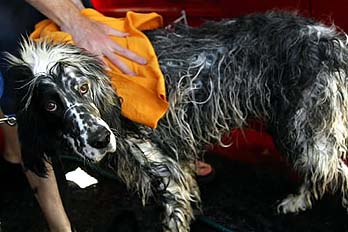 So give your pet the best in softness, strength and absorbency for their very next bath time.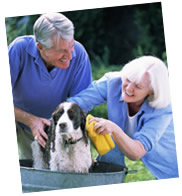 1 - 1
2+

$

17

.

95

2 or More only $17.95/set. Reflected in your cart
| | |
| --- | --- |
| Soft & Durable | |
| Super Absorbent | |
| Machine Washable & Dry low heat | |
| Color Fast, Even with Bleach! | |
| Generous Size (20X27) | |
| 100% Rayon Viscose | |
| Another Great German Made Product | |
| Each Pet Towel Holds Almost a Quart of Liquid! | |