Your Pet would say "I'm sorry" if he could.
Unfortunately many dogs and cats are sent to shelters or just plain thrown away because of repeated accidents that leave behind unsightly stains and offensive odors. Now you can stop repeated accidents and markings for good with this simple, and MOST effective Pet Urine Cleaner,
GET SERiOUS!® Pheromone, Stain, & Odor EXTRACTOR!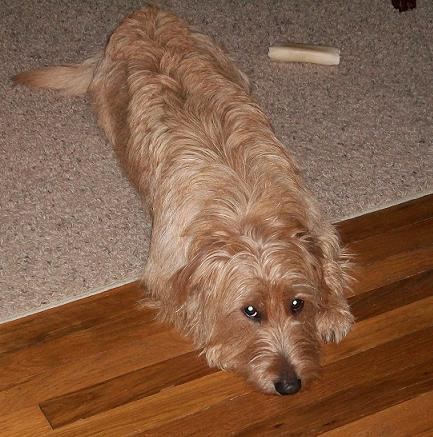 GET SERiOUS! Pet Stain & Odor Remover is the ONLY pet urine cleaner with the strength and ability to lift the Pheromone out while also removing any associated stains and cat urine odor. Yet it is Nontoxic, Biodegradable, and safe for people, pets, and even birds & fish!
GET SERiOUS! Is So Simple To Use! (first remove any solid wast material, or any waste left on the surface)
1. APPLY: Squirt on in zig-zag patterns. Saturate, but DO NOT SOAK! You only need half as much as "other" cleaners. Over saturating can actually prevent a good cleaning result!
2. WORK IN: Use a brush, NOT a rag or sponge! Our Rubber Bristle Pet Brush works great for this! If you're not seeing bubbles, add a little more GET SERiOUS!. Should get visable foam.
3. BLOT OUT: Immediately start blotting with a damp Super Absorbent German Shammy. We find that the Shammy brings the best results. With the Shammy make firm contact with the carpet and allow the Shammy to pull as much solution out as possible. Keep blotting to a clean section of the Shammy. Then wash out the Shammy, or use a fresh clean dampened Shammy to finish by laying the Shammy back on the area and allow to sit on the surface until all the moisture is pulled out. This won't take long as the the Shammy wicks away moisture very quickly.
4: YOU'RE DONE: Super quick, only 3 minutes!
DID YOU KNOW THAT GET SERiOUS! Pet Pheromone, Stain & Odor Extractor Is:
* CONCENTRATED: Cleans TWICE the amount other cleaners do. Use HALF as much! One 16 oz. Bottle is like getting TWO bottles of the competition!
* ELIMINATES SERIOUSLY STUBBRON STAINS: This is the only stain remover you can warm up to quickly soften & wipe out old "locked-in" stains! Simply warm the bottle in the microwave and re-apply. (warm about 25 seconds)
* NON-YELLOWING & ODORS WILL BE GONE FOREVER!: The only one that NEVER yellows carpet and removes the yellow left behind by other cleaners! GET SERiOUS! doesn't leave any "neutralized" urine under padding to wick-up to the top of carpet later and cause yellowing like most enzymatic cleaners. GET SERiOUS! penetrates to the padding and bubbles up stains and odors to the top of the carpet where they can be completely blotted out with a damp Shammy cloth, QUICKLY & EASILY!
* STOPS THE RE-SOILING CYCLE!: The only cleaner that extracts the Pheromone too, so pets aren't attracted back to mark their spot. Their "scent" (Pheromone) is in the urine, which is totally extracted during the cleaning process.
* ENZYME FREE: There is no need for heavy saturation, like most enzyme-based cleaners, that can lead to the growth of allergy-causing molds under the padding. This results in mold spores being released into the air.
* ALSO: Works Immediately, and is
* Nontoxic
* Biodegradable
* Safe for People, Pets, and even Birds & Fish!
GET SERiOUS! Pet Urine Cleaner, Odor & Stain Remover gets rid of pet pee, pet poo, & Pheromone too! Barf, hair balls, diarrhea, birthin' stuff, old stains, old yellowing, icky stains, paw prints, even red dirt, blood, duck poop, grease and gum, squished caterpillar & anything else your cat or pet tracks in or leaves behind! And on ANY Flooring - even cat urine in concrete! We know because we use and love it at our Shammy Solution family's houses.
GET SERiOUS! is the SERiOUS Solution for Serious Messes! Part of our Pampered Pet Gift Set!